Whittier Elementary School
Seventh Avenue & "E" St.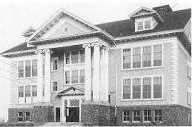 Once described as one of the most beautiful buildings in Spokane, Whittier School was built in 1913 in the Neoclassical style with two stories clad in light golden colored pressed brick and massive round white-painted Corinthian columns that supported a full-height Classical pediment.  The building commanded a spectacular panoramic view of Spokane as it looked northeast from the top of a bluff above Government Way in northwest Spokane.  As school enrollment waned, Whittier School was eventually closed in 1972.  In 1981, Whittier School was demolished.  Whittier students attended Sacajawea Junior High School and Lewis & Clark High School.
No student pictures available.